What might the US Congress look like in 2024?
The midterms are finally over. The Democrats have lost the House but expanded their majority in the Senate. For the party of an incumbent president, that is a pretty good outcome.
To put the result into context, Joe Biden is the first president since 1934 to not lose a single Senate seat to the opposing party at the midterm elections.
In the world of political forecasting, when one election ends, it's never too early to turn one's attention to the next. So, what can the 2022 elections tell us about what might happen in Congress in 2024?
Looking back over the last 100 years, party performance in midterm elections is a pretty good predictor of whether they will win each chamber two years later. Seat share, and seat share alone, is the best indicator of future success. Whether a presidential party is in their first term - though it has an impact on whether the party will be re-elected to the presidency - has no added significance when it comes to predicting control of Congress.
I have created two pretty simple models which plots the president's party's percentage of seats in the House and Senate at the midterms against whether the party went on to win each chamber at the next set of elections.
The results show that the opposition party has a seemingly in-built advantage, and the 'six-year itch' phenomenon is borne out by the data. Put simply: incumbent parties tend to lose seats.
To put some numbers on that concept, if the incumbent party holds half the Senate seats at the midterms, they would only expect to hold onto the Senate two years later around one-third of the time. Likewise, in the House, a (theoretical) half the seats at the midterms gives an incumbent party a 44% chance of winning that chamber at the next set of elections.
Plugging the Democrats' 2022 midterm seat shares into each model gives the following probabilities (as proven in the graphics below):
Democratic Senate win in 2024: 39.6%
Democratic House win in 2024: 35.4%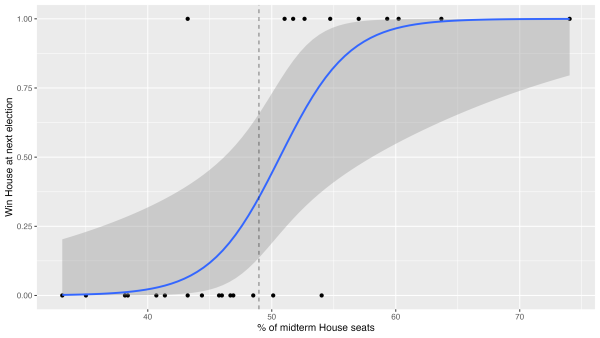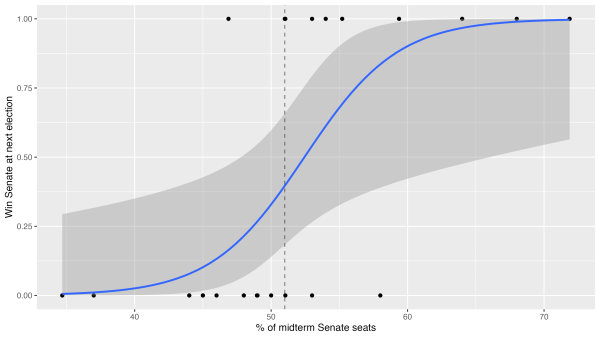 Heading into 2024, then, the Democrats are likely to be the underdogs in both chambers of Congress. We'll know for sure once the markets are up and running.
---
Patrick Flynn
8 December 2022