Could Matt Hancock win I'm A Celebrity?
Just as we thought UK politics in 2022 couldn't get odder, Matt Hancock is going to take part in the latest series of I'm A Celebrity Get Me Out of Here.
The opening odds at Smarkets make him around a 50/1 shot to win (2% chance). Putting aside his own particular appeal to viewers, how have politicians in general fared in this reality TV show in the past?
There have been seven former contestants who had had a political career of some description. Nadine Dorries was the only serving member of the House of Commons to have taken part and, amazingly, it didn't seem to do her career any harm. She lost the Tory whip on entering the jungle in 2012 but got it back a year later. To many people's surprise, she eventually became a cabinet minister under Boris Johnson in 2019. Former Scottish Labour leader Kezia Dugdale was still a sitting MSP when she took part in 2017, but her career never really recovered from that.
The others were a mixed bag of ex-politicians, none of whom could do better than the fourth place achieved by Edwina Currie in 2014.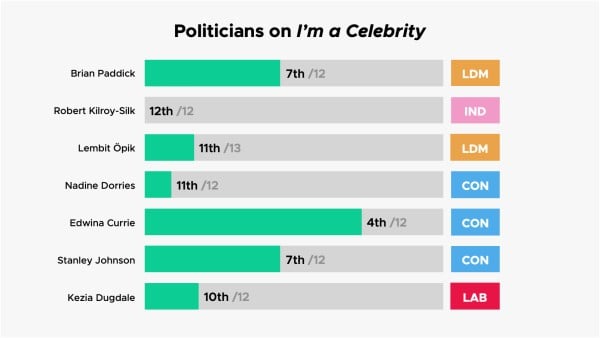 So, based on the record, it would be something of a shock if Hancock were to get anywhere near winning this. He starts off as being fairly well known, but not very well liked by the British public. According to YouGov, 57% of respondents reported to disliking him which appears to be one of the highest numbers of any of the Tory politicians they asked about. Perhaps he can take some hope from the fact that Carol Thatcher won it back in 2005, although I imagine most viewers would have been fairly neutral about her beforehand.
Personally, I would have no interest in backing him at 50/1 to win this. On the other hand, I wouldn't be totally surprised if he outlasted a lot of the other politicians who've been in it before. If he shows any kind of spark at all, you could easily see him being picked for repeated trials and the producers of the show might want him to stick around for a bit for the news/comedy value. Smarkets have a market on how many days he will last in the series, and I wouldn't put anyone off backing him to survive a bit longer than expected.
---
Matthew Shaddick
1 November 2022