1 November election preview: Denmark and Israel go to the polls
There are two highly-competitive international elections taking place tomorrow in countries with vastly different levels of political stability.
In Denmark, Mette Frederiksen's Social Democrats will seek re-election in a snap general election which takes place just a year before her government's four-year mandate is set to expire. In Israel, voters will be tasked with breaking the deadlock in the country's fifth election since 2019, with Benjamin Netanyahu attempting to become Prime Minister for a third (non-consecutive) spell.
Current Smarkets odds suggest both Frederiksen and Netanyahu will be successful.
Mink Murder to Sink Mette?
In Denmark, Frederiksen is rated a 75% chance of remaining Prime Minister after the election, which was triggered by the fallout over the controversial killing of Danish mink during the COVID-19 pandemic. Based on some polling analysis, I expect the left-of-centre 'red' bloc to attain about 49% of the seats and the right-of-centre 'blue' bloc around 42%, with the remaining 9% of seats taken by the centre to centre-right Moderates.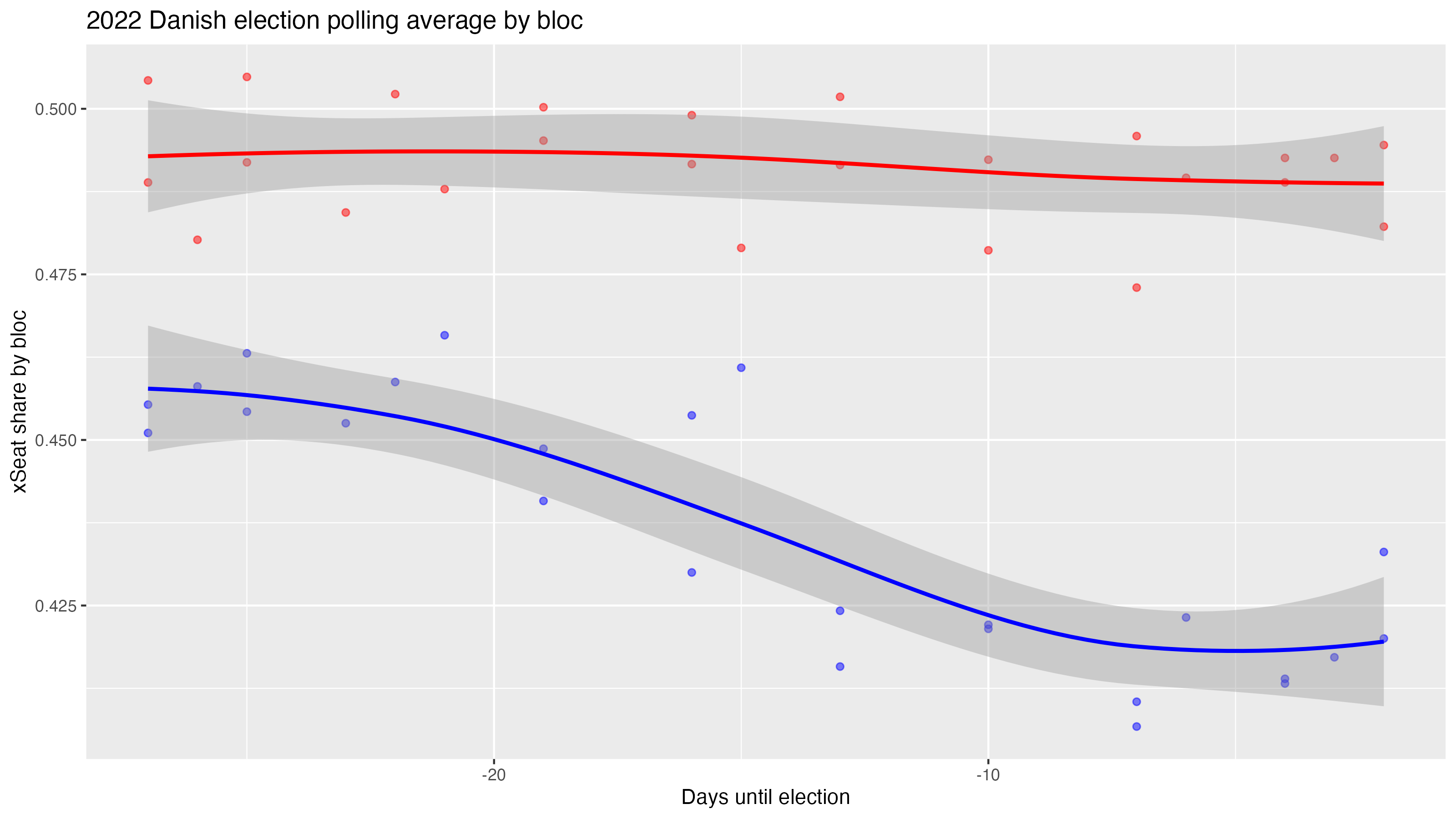 While the prospect of a red majority is on a knife-edge, it seems more likely than not that the Moderates will be the kingmakers. The party is currently led by Lars Løkke Rasmussen, the former Prime Minister of the right-of-centre group, so one would presume his natural allies would lie in the blue bloc. A right-of-centre coalition with Rasmussen as Prime Minister or in another senior role seems like the more appealing option for his party, as opposed to being a smaller part of a left-of-centre government with Frederiksen remaining PM. As a result, there may be some value in laying a Frederiksen premiership at current prices.
Bibi Take Three?
Over in Israel, Benjamin Netanyahu is given a 65% chance of returning to his role as Prime Minister.
From a polling perspective, this election is even closer than Denmark's, with the pro- and anti-Netanyahu blocs in an effective dead heat. 8 of the last 15 polls have shown the two blocs tied on 60 seats each, making control of the Knesset almost impossible to call.
The key dynamic in this race is Israel's electoral system. Parties need to achieve 3.25% of the national vote to be allocated seats, meaning the minimum number of seats a party can receive is four. There are at least three anti-Netanyahu parties polling just above this threshold, whereas the pro-Netanyahu bloc is made up of fewer parties with higher vote shares. If just one anti-Netanyahu party fails to make 3.25%, the balance of power will be tipped in the former PM's favour, making him the rightful favourite in the race to become the country's next head of state.
The parties formerly constituting the Joint List (Hadash-Ta'al and Balad) may come to rue their decision to stand separately at this election. Hadash Ta'al are barely scraping past the electoral threshold and Balad are just beneath it. If these parties had remained as one, the anti-Netanyahu bloc would probably be the narrow favourites.
There is, however, a wildcard option for anti-Netanyahu voters. If preventing a return for 'Bibi' is a voter's number one priority, a tactical vote for the left-wing Balad to help them over the electoral threshold would be a wise move. If Balad were to reach 3.25%, the balance of power would be tipped in favour of the anti-Netanyahu group (assuming the polls are accurate). There has been some evidence of tactical voting at play — Balad's poll numbers have effectively doubled from 1% to 2% over the course of the campaign, but a more widespread effort would be required to get them over the line.
Regardless of which grouping takes the reins in Israel, the political deadlock looks set to continue, and I'd hazard a guess that another election will be just around the corner.
---
Patrick Flynn
31 October 2022