US Political Punters make DeSantis favourite for 2024
American political punters think that Florida Governor Ron DeSantis has a 29% chance of being elected President in 2024. The latest prices at Smarkets give him around a 13% chance. How can there be such a huge difference in the odds?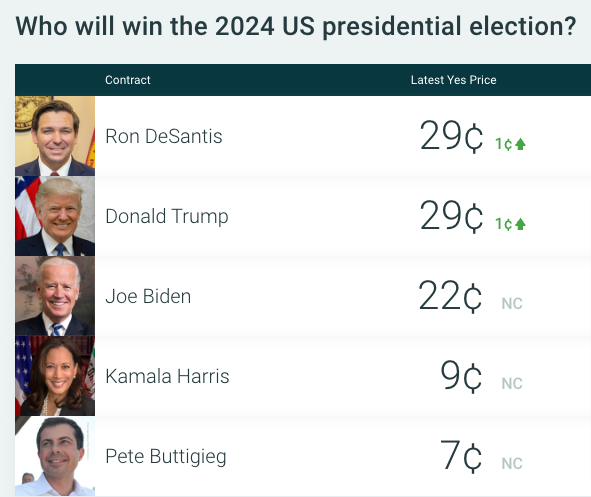 These prices are from a site called PredictIt, which is the only place US residents can legally bet on election outcomes. The main sports betting sites over there don't have regulatory clearance to offer odds on politics, but PredictIt has a special license from the federal authorities to do so. You have to be a US resident to use it and every other site that offers politics betting can't take bets from the US. So, in theory, PredictIt operates in a regulatory bubble separate from the rest of the betting ecosystem, which means that enormous arbitrage situations like this can arise but can't easily be exploited by anyone.
PredictIt has some other oddities in the way it operates. Customers can only bet a maximum of $850 on any one outcome. The commission and fees are a lot higher than traders would pay on an exchange like Smarkets. A combination of those factors might sometimes stop markets being as efficient as they might otherwise be. Whilst you might expect US punters to be more knowledgeable about US elections than those in the rest of the world, that doesn't always seem to be reflected in the prices (a good example being the ludicrously high estimates given to Hillary Clinton's chances of winning the 2020 election in which she didn't even participate).
DeSantis could have been backed at 100/1 in the immediate aftermath of the 2020 election on some European facing sportsbooks. He wasn't very well known by punters outside the US at that stage and almost all of the names at the top of the market were people who had participated in the 2020 contest. Now he's at the top of everyone's list as the GOP favourite if anything happens to stop Trump running. DeSantis faces a re-election bid as Florida governor this year but is currently rated a 90% chance to win again. He is said to have support amongst a lot of very rich potential donors and arguably might be a much better option for the Republicans than a return to Trump and all of his baggage.
Trump leads easily in early polling of Republicans, but obviously has a huge name-recognition advantage over everybody else, particularly someone like DeSantis who hasn't run before. However, there were some worrying signs for Trump backers from recent GOP primaries, particularly in Georgia where Trump-endorsed candidates were beaten by more mainstream Republicans.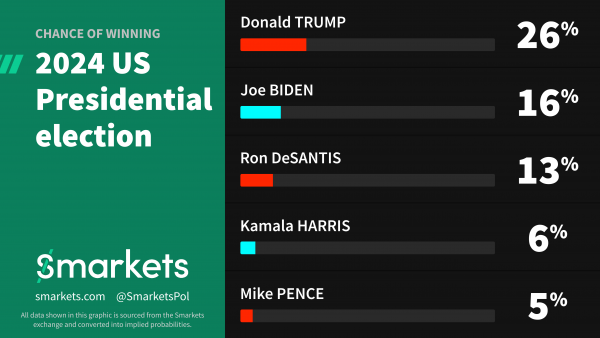 ---
Matthew Shaddick
7 June 2022