Boris Johnson Exit Date - The Latest Odds
What are the chances of Boris Johnson being evicted from Downing Street this year? The latest odds at Smarkets say about one in three.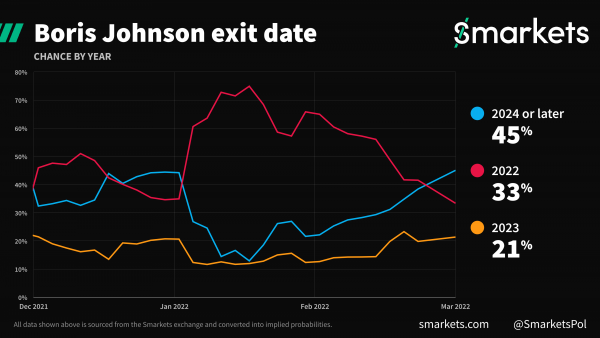 That's a huge shift in a short space of time. At the height of the "partygate" furore in mid January, it got close to hitting 80% as punters anticipated a no-confidence vote and it seemed just a matter of time before a Tory leadership contest ensued. The market began to turn shortly after the limited version of the Sue Gray report was published at the end of January and it became clear that it might take some time for the Metropolitan Police to conduct their investigations.
The odds have continued on a downward trajectory ever since and it's now considered more likely that Johnson will survive as PM until at least 2024 - that had hit a low of 12% but the last traded price was 47%. Clearly there have been many more important stories in the press in recent weeks and there is some evidence that the popularity of Western leaders in several countries is experiencing something akin to a "rally round the flag" effect as voters focus on events in Ukraine.
Emmanuel Macron's odds of being re-elected next month have surged above 90% at Smarkets
Still, Johnson is by no means out of the woods yet. If either the Met issue a fine over partygate or the full Sue Gray report finds that he misled parliament, his position will come under threat once more. There is no guarantee that the ongoing war in Ukraine would prevent enough Tory MPs from submitting letters of no-confidence as a result. On the other hand, changing Prime Ministers in the middle of the current crisis might not appeal to enough of the parliamentary party to see him lose a subsequent no-confidence vote, particularly as the Conservatives' polling position seems to be improving somewhat.
---
Matthew Shaddick
9 December 2022