Smarkets introduce new Conditional Markets.
We are trying out something new at Smarkets - Party Leader Conditional Markets.
Will Boris Johnson be Tory leader at the next general election? There is about a 65% chance he won't be, according to the latest odds at Smarkets. One very important issue for the Conservatives is whether any other potential leader would actually improve their chances of winning an election? Well, maybe prediction markets can help answer that question.
So, you can already bet on whether the Conservatives will win a majority at the next election (25% chance at Smarkets) but now we have introduced a couple of new conditional markets of the form "Will the Conservative Party win a majority IF Boris Johnson is still the leader"? We've put the same question up but with Jeremy Hunt as an option, given that Hunt is currently the favourite to replace Johnson. Maybe we will add some extra markets with all of the other leading contenders as well. If Johnson (or any other named individual) is NOT the leader at the next election, then the relevant markets are voided and any cash staked is simply returned to anyone who has placed a bet.
If these sorts of markets proved popular and liquid, maybe they would become trusted as one of the best ways for people to make decisions about the future. Robin Hanson coined the term Futarchy to describe a potential form of government where betting markets would guide policy making. In our example, Tory MPs and members would simply consult the markets to help them decide whether to eject Johnson and assess which contenders would be best to elect as their new leader.
Whether enough traders risk money on these conditional markets to provide reliable information remains to be seen. In some ways, it's a big ask to expect people to tie up their money for relatively long periods of time in markets which, in this case, are most likely going to be voided (except for ones with the actual leader on election day). Still, we think it's worth trying.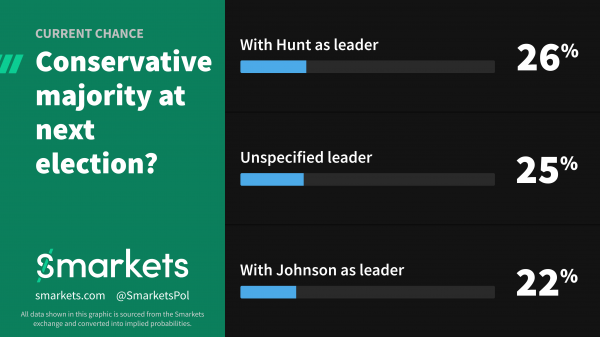 ---
Matthew Shaddick
17 June 2022