Eurovision 2023: Loreen should win Melodifestivalen but look at minor markets for value
Can anyone stop Loreen? That's the question on everyone's lips at the moment. Sweden has shortened to 2.12 to win the whole contest on the back of her entry this year, but she needs to win the Swedish selection first.
The Melodifestivalen final takes place on Saturday, and there doesn't seem to be a huge amount of uncertainty regarding the result. Loreen sits at an unprecedented 92% chance of winning according to the market, which has understandably been quite low-key this year.
So what outcomes can we expect on Saturday? As always, I like to let data drive my thinking. There are a number of factors that go into predicting Melodifestivalen: the running order, the points a song received in its heat and whether it won, and the age of the performer all have an impact on how the different age groups vote.
However, the biggest predictor is streaming numbers, which have been highly correlated with televote scores over the last few years.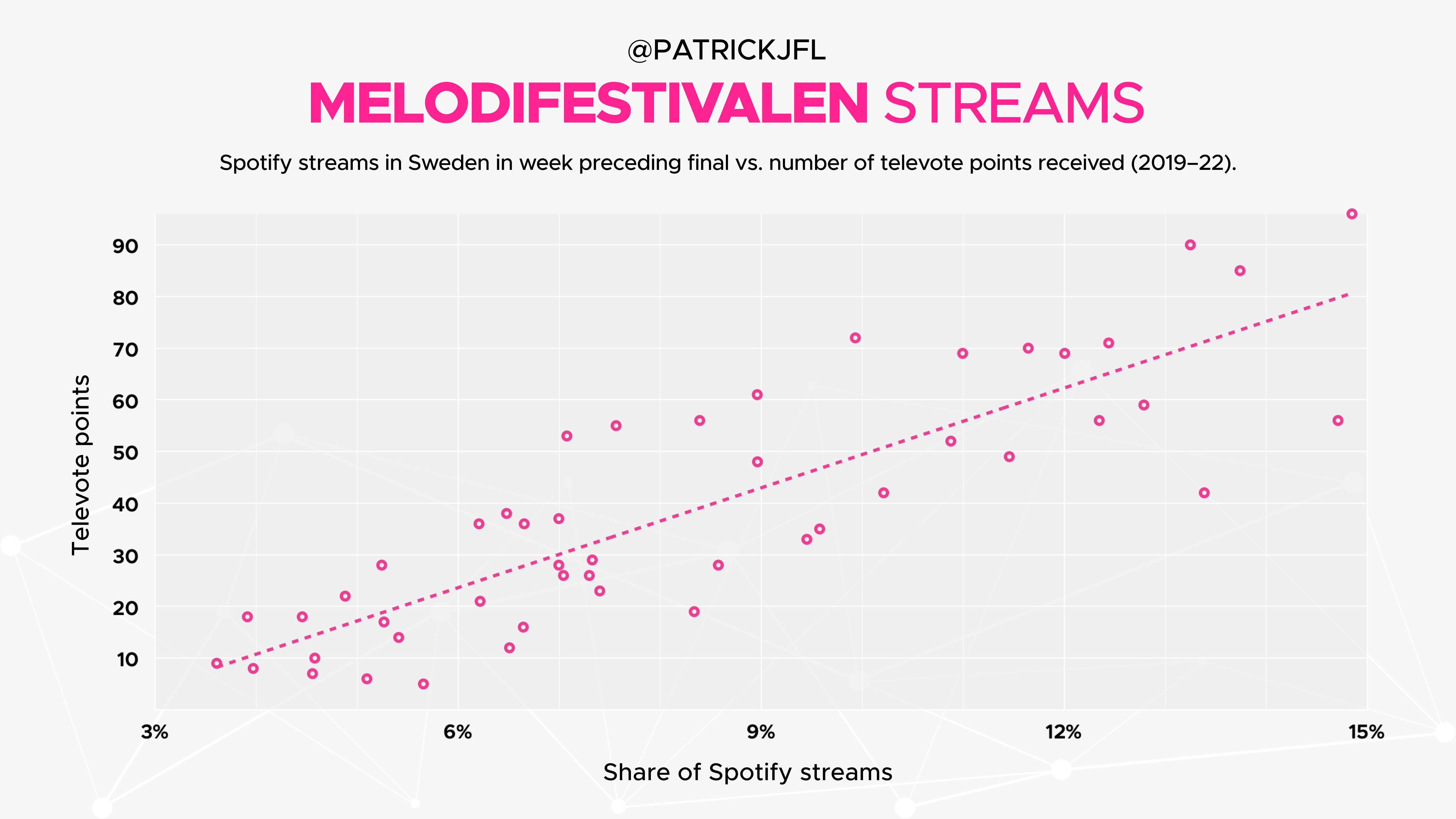 Loreen's Spotify stats this year are through the roof, much higher even than Tusse when he racked up a perfect televote score in 2021. I think Loreen may also be headed for a televote 96, receiving 12 points from all eight groups, and the entry should win with the juries, too. Her victory isn't really in doubt for me, it's just a question of how much she wins by.
From a betting perspective, the 'Top Two/Top Three' and 'Head-to-head' markets are more interesting. A hefty Loreen victory could really open things up and enable an act to reach the top three on a historically low score. The four most recent third places all scored between 106 and 109 - I wouldn't be surprised if this year's bronze medallist ended up under 100.
In the televote, we may see the top three looking something like Loreen (90+), Smash Into Pieces (55–60) and Marcus & Martinus (50–55). Maria Sur is the big unknown here as a key element of her support (her story as a Ukrainian refugee) may not be picked up by streaming numbers. With that being said, Anders Bagge - whose televote win was driven by his personal story over his song - was still second on Spotify streams in the week before the final last year, whereas Sur is ranked an unconvincing ninth out of 12.
For a heat winner to be ranked this low may be unprecedented, and speaks to the overall feeling that her momentum has evaporated since the arrival of Marcus & Martinus and Loreen in the final two heats. It would take a big wave of sympathy voting to overcome Sur's flatlining stats and see her crack the Swedish public's top three.
On the jury side, again I expect a clear Loreen win (80–85), followed by Marcus & Martinus in a solid second with their contemporary Weeknd/Bicep-influenced entry achieving a similar jury result to Liamoo last year (60–65). Subsequently, I think there may be a pretty big gap to a tightly-bunched group, perhaps with Mariette or Maria Sur (45–50) taking the third spot.
Despite their televote strength, I don't see Smash Into Pieces cracking the jury top three given their dated sound and divisive vocal style. However, this certainly feels like the type of song that could get a random 12 from a rock-loving jury member and end up outperforming its median.
One bold prediction I want to make is to back Theoz to make the top three at 29. This isn't necessarily a likely outcome, but the odds are pretty favourable.
Despite coming through the semi-final, his streaming numbers rival Smash Into Pieces and rank more favourably than his song last year (third vs sixth). Bearing in mind the juries ranked him fifth last time out, the prospect of him doing a little better this time with something like a fourth/fourth split and sneaking through the middle for a third-place finish should be a much shorter price than 29.
Some head-to-heads are available, and I've backed another young performer in Kiana to beat Paul Rey at 2. Rey is second-last on streams whereas Kiana is mid-table with a strong, Dua Lipa-esque radio-friendly hit that ought to be rewarded by juries. Kiana is also a dual Swedish-Australian citizen — if there's an Australian jury (as there has been in four of the last five editions), she could get a nice boost from them. She looks great value in that match-up.
Melodifestivalen 2023 Predictions
Back Theoz to finish top three @ 29
Back Kiana to beat Paul Rey @ 2
---
Patrick Flynn
10 March 2023