Eurovision 2023: Semi-final 2 betting preview
Denmark
53% chance of qualification
The second semi-final is a much more open affair than the first and subsequently much harder to predict. In semi-final one, there are six songs given a 90% or higher chance of qualifying in the markets, whereas there is just one in this heat. So what better way to kick off a wide-open contest than with a 50/50 qualification shot?
On paper, Denmark is up against it here. Reiley is first in the running order with only Iceland in the way of major televote allies. However, 'Breaking My Heart' is a solid contemporary pop song in a Charlie Puth-meets-K-pop vein with a clear target audience. The decision to place it as the show opener may also suggest Eurovision producers are confident in the quality of the stage show Denmark has planned.
An under-discussed factor that could help Reiley qualify is his huge TikTok following (10.7m, particularly concentrated in South Korea). With the Rest of the World voting this year for the first time, could Reiley advertise his semi-final participation and ask his followers to register their credit card (assuming most of them are old enough to have one) to vote for him?
If even 0.1% of them did it and voted 10 times, Denmark would probably pick up the 12 Rest of the World points pretty easily.
Armenia
89% chance of qualification
I initially had Armenia down as a likely non-qualifier when the running orders were revealed but Brunette has impressed vocally in the pre-party season and is doing well in terms of fan metrics. However, I'm really not sold on this as the second most-likely qualifier, especially from second in the running order.
Romania
14% chance of qualification
Romania looks like a quintessential early running order semi-final casualty. Non-qualifier for me.
Estonia
63% chance of qualification
The markets seem to be underestimating the effect of running order across the two semi-finals. Televoters are much more susceptible to running order impact than jurors so, in a televote-only affair, the draw will have a larger impact than we are used to.
As I said in my semi-final one article, an average of just two songs from the first five have been televote qualifiers in recent years. Odds imply an expected 2.9 of the first five will qualify from semi-final two, which feels too high. For me, Estonia is more likely to fall on the wrong side of the qualification line and the final may be a bridge too far for Alika.
Belgium
70% chance of qualification
Belgium is perfectly positioned in the running order given its first-half draw. It's the earliest crowd-pleaser of the night, following four slow or mid-tempo entries, and in all likelihood will bring the first act to an end and lead us into the break.
Gustaph's support will likely skew quite heavily towards Western Europe/Australia, and I expect he will fare well with middle-aged women, particularly those who came of age at the height of Boy George and Erasure.
Of the British people outside the Eurovision bubble I've shown the recap video to, 'Because of You' is universally liked in a way I haven't seen since Keiino in 2019. To be clear, this is anecdotal and I'm not for a moment suggesting Belgium is going to win the televote in the final (or even come close), but I thought it was something worth noting.
Belgium can't rely on Western Europe/Australia alone to qualify in this semi-final (semi-final one would have been more fertile ground), but we should still be seeing Gustaph again.
Cyprus
84% chance of qualification
Cyprus could not have asked for a better group of countries to be paired with. Their three biggest voting allies – Greece, Armenia and Albania – are all in this semi-final. In addition, Cyprus can probably rely on San Marino's constructed televote (created based on some combination of 'similar countries').
The last time San Marino, Cyprus and Greece were in the same semi-final, San Marino's televote gave 12 points to Greece and 10 to Cyprus. The cherry on the cake is Andrew Lambrou being Australian, with his home country also participating in this heat.
We haven't seen a full live performance of the song yet, which necessitates some caution, but 'Break a Broken Heart' is an accessible and radio-friendly pop song with an attractive performer in an open semi-final and some very favourable voting allies. A Cyprus semi-final win is well within the realms of possibility.
Iceland
29% chance of qualification
Iceland looks like a pretty comfortable non-qualifier to me, and I think 29% is too high. I can't see it being enough people's favourite and I don't see where Iceland's points are going to come from.
Greece
69% chance of qualification
Like Cyprus, Greece couldn't have asked for a better semi-final. With Cyprus, Albania, San Marino and his father's country of Denmark voting, Victor Vernicos has been given a huge boost in terms of qualification chances. If this was a Danish or Icelandic entry I wouldn't give it much hope of qualifying, but Greece's allies may push it through.
Poland
57% chance of qualification
I'm highly ambivalent about Poland. We have a song that would qualify in studio form, but the live outings have come under scrutiny for Blanka's vocal performance. Furthermore, the Polish diaspora has historically demonstrated their eagerness to help deliver some strong televote scores (see 2016), but the diaspora can just as easily keep their phones firmly in their pockets if they don't like the song or artist selection (see 2021).
It's hard to know whether knowledge of the somewhat controversial circumstances around Blanka's selection is confined to the Eurovision fandom or whether this also spreads to the diaspora. If the latter is the case, a diasporic injection of televote points is not a foregone conclusion.
The vocal execution of 'Solo' at the Polish national final is likely to be fairly similar to what we see at Eurovision. After all, this was a competitive performance in a TV studio not merely a risk-free pre-party outing. Blanka will probably get some vocal assistance in Liverpool, but she may end up missing out if the performance is more or less the same as the Polish national final.
Slovenia
79% chance of qualification
'Carpe Diem' was my pick to close this semi-final, but Joker Out have instead been drawn quite early in the second half. The song is strong and the band is charming and likeable, with live performances eclipsing the studio recording. Slovenia ought to be qualifying and I wouldn't rule this out from hitting the semi-final top three if the stage show is strong.
Georgia
74% chance of qualification
Despite a decent initial reception, Georgia's momentum seems to have completely vanished over the last month or so. There is staging potential and Iru's live vocals are excellent, but I'm not sure it's going to reach the heady heights of the scoreboard. I fear this may elicit fairly warm reactions from viewers but not connect enough for them to vote for it.
San Marino
14% chance of qualification
I don't have a whole lot to say about San Marino. There are stronger entries in the same genre in this semi-final so I'm not sure what their USP is. A fairly safe non-qualifier.
Austria
96% chance of qualification
Austria is the odds-on favourite to win this semi-final, but I'd probably make it more like 50/50.
It's a bit of a Eurovision cliché nowadays, but 'Who the Hell Is Edgar?' is an entry that will live or die on its staging, and I've been racking my brains over the last few weeks thinking about how the Austrian team is going to present it. If Teya and Salena want to be in with a chance of winning the whole contest, a delicate balance will need to be struck.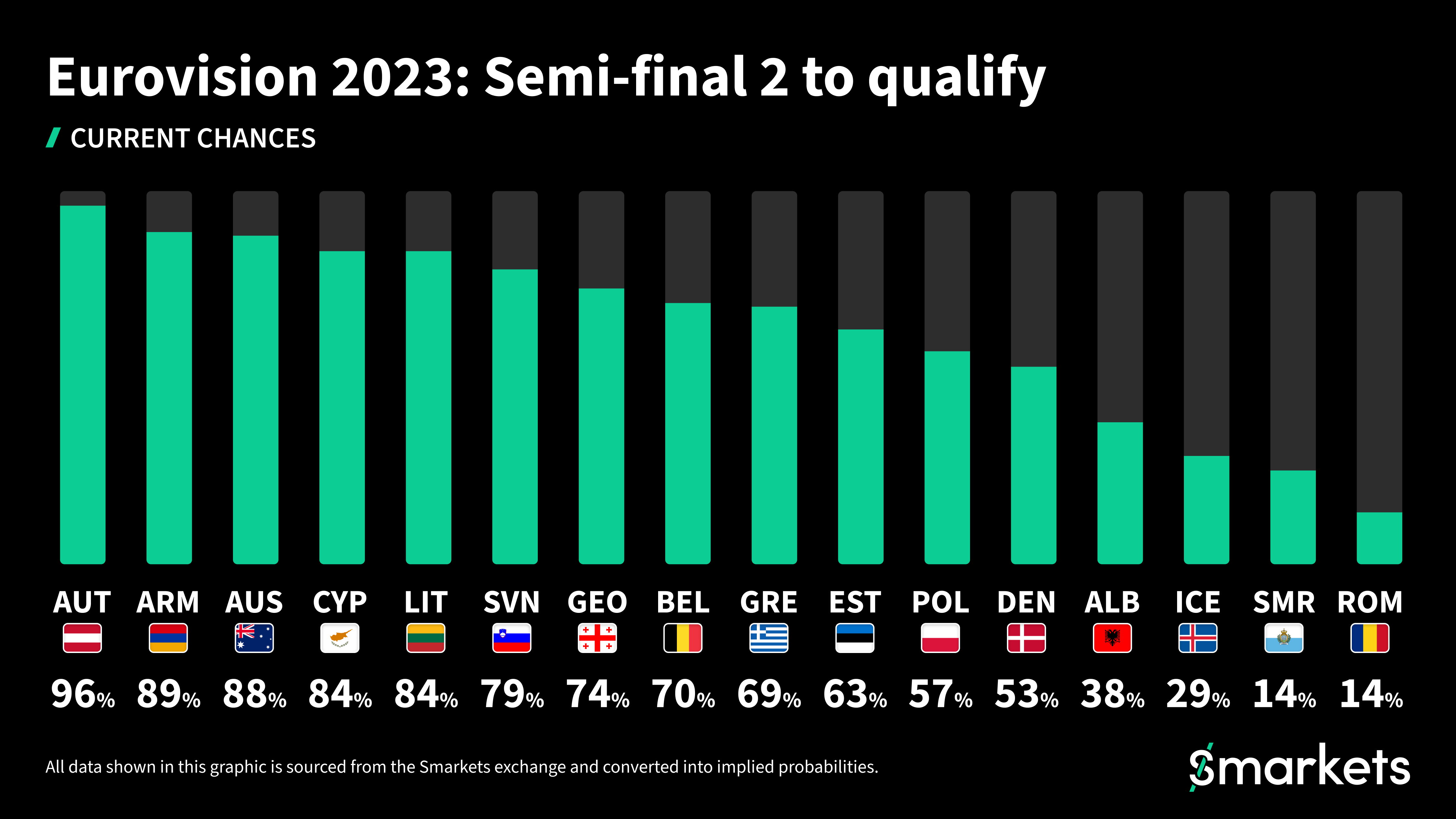 This ranks alongside Finland and Spain as one of the most exciting songs of this year's contest as a catchy, playful hit which also carries a satirical, self-referential commentary on songwriting and the music industry. This latter aspect, if communicated well, could see Austria rewarded by jurors sympathetic to the song's message. If not, jury members may merely interpret the entry as a novelty song and end up ranking it down.
I feel the same excitement for Austria's staging as I did with Serbia last year and I can't wait to see what they come up with. If the graphics used at the London Eurovision Party are anything to go by, we could be in for a treat.
Albania
38% chance of qualification
Albania's semi-final televote results are remarkably consistent, falling in the ninth–12th range on each of their last six outings - it's pretty likely we'll see the same thing here. I've got Albania and Family below the qualification threshold right now, but this could easily sneak through in one of the last two spots.
Lithuania
84% chance of qualification
Lithuania has strong diaspora support, is second last in the running order and Monika Linkytė is a strong singer with a warm, accessible ballad that could pick up some support as an oasis of calm amongst the chaos. With all that in mind, this ought to be higher than an 84% qualification chance.
Once the juries are reintroduced in the final, Lithuania could be a decent outside shout to make the top ten, carried by a potentially strong jury showing and a diaspora-driven televote score.
Australia
88% chance of qualification
Australia should be a pretty safe qualifier and has been granted a golden ticket with the so-called 'pimp slot'. Some have suggested Australia is the main challenger to Austria in this semi-final, but I'm not convinced that the Dad-rock genre (I use that affectionately!) has wide enough crossover with Eurovision audiences. Australia's historic televote pull alone is pretty non-existent.
With that said, Voyager are competent performers and have a quirky charm to them, which should garner some support. If others stumble, you can't rule them out completely.
Predicted qualifiers (in descending order of likelihood)
Austria, Cyprus, Australia, Lithuania, Slovenia, Armenia, Georgia, Belgium, Greece, Denmark.
---
Patrick Flynn
30 April 2023