Why Rishi Sunak probably won't go for an early election
Rishi Sunak has a maximum of 17 months to turn around his party's 20-point deficit in the opinion polls, with the next general election not required to take place until January 2025. With a recession likely to add to the country's economic woes by the end of next year, there have been some calls for Sunak to go early in May 2024 and try to minimise the Conservatives' losses.
These reports are not unexpected. There is often media speculation about early elections as articles on the topic generate social media buzz, but personally speaking, I just cannot see why the prospect of a near-guaranteed loss for Sunak next May would triumph over the hope that something would come up in the subsequent six or so months.
Some have pointed to Pedro Sánchez' recent snap election gamble in Spain (when his governing party was behind in the polls) as a potential blueprint for Sunak. However, Sánchez called the election in the aftermath of local elections in which his party lost the popular vote by three points — frankly a dream position for the Tories to be in right now given the 20-point leads Labour are currently racking up.
Since 1959, in four out of the five election cycles where the governing party was behind in the polls at this stage, the election took place within three months of the latest possible date. In election cycles where the governing party was ahead, they opted to go early on all but one occasion (91%).
There is clear evidence of a strong relationship between government polling figures and the date of the next general election. The chart below shows the poll leads of the governing party at this point in the parliament plotted against how early the subsequent general election was held. For elections which had already been called by this point, I have used the governing party's lead on the day the election was announced (indicated by the blue circles). Generally speaking, the worse the government is faring in the polls, the later the election takes place.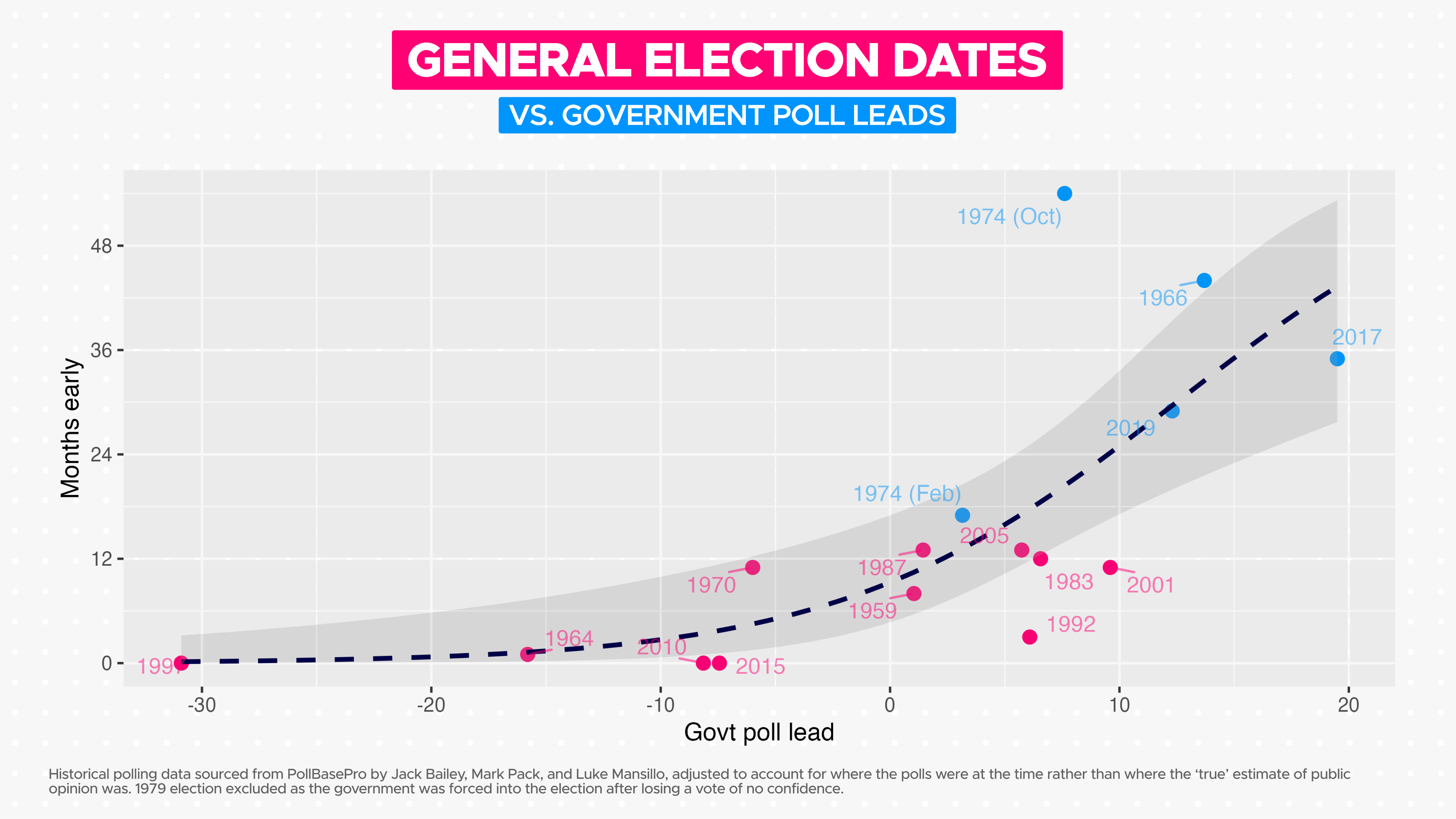 There is no historical precedent for a government calling an early election from this far behind in the polls. I expect this parliament to run its course, perhaps to the very end. A January 2025 election is logistically difficult (though not impossible), so a poll in the final quarter of 2024 remains the much more likely outcome.
---
Patrick Flynn
15 August 2023